Crocodilian Leather
Crocodilian leather is the worlds' most sought-after precious leather. Precious leathers are leathers that has characteristics of antiquity and rareness with a distinctive aesthetic appeal. Crocodilian leather earned its top-ranking position, not only due its exceptional strength and durability, but also due to its rarity, beauty and exclusivity. The different species of crocodilians has distinctive scale patterns and each individual crocodile has its own unique scale pattern, making each leather product manufactured one of a kind.
Nile Crocodile
Nile crocodile leather, is considered one of the four classic crocodilian leathers. Nile Crocodile, being part of the genus identified as "True crocodiles", can be identified by their sensory pores clearly visible on the bottom section of the belly scales. Nile crocodilian leather is recognized for its even, symmetrical belly scale pattern with a distinctive center line, with the square scales fading gradually into more rounded scales on their flanks. The distinctive symmetrical and masculine, yet delicate scale patterns, makes the leather suited for leather products designed for both sexes.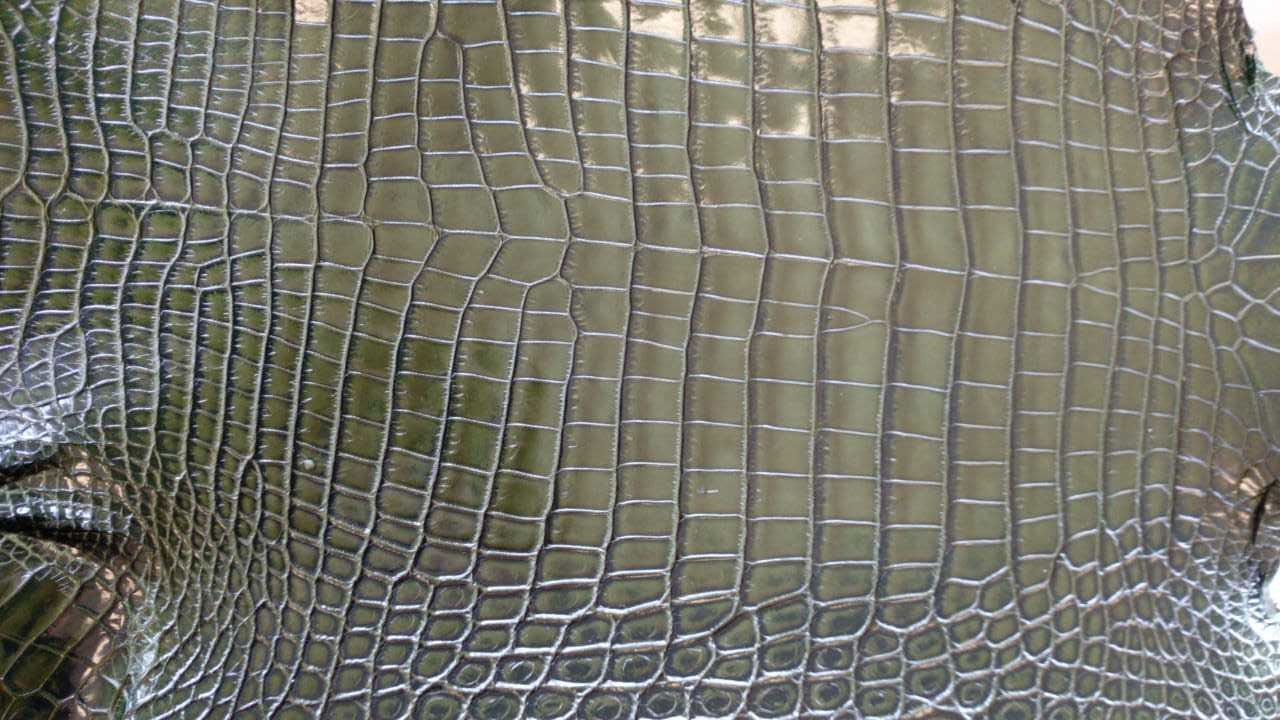 Nile crocodile leather structure
The Nile crocodile has evolved on the African continent where it had to contend and compete with a far greater variety of competing carnivores and predators than its counterparts elsewhere in the world. The harsh climate, rugged terrain and semi-terrestrial nature of the Nile Crocodile resulted in the Nile crocodile developing a tough armored and impenetrable back scales and soft, yet tough belly skins, made up of collagen consisting of tightly woven layers of fibril bundles, forming cross-linking fibres that provides the exceptional tear strength to the leather. This unique feature of the Nile crocodile skin requires specialized tanning techniques and gentle, slow action to gradually open up the fibres to improve the permeation of tanning chemicals and protection of the delicate grain. The unique features of Nile crocodile leather also makes it particularly suitable for various finishes and variety of product applications, such as the ultra thin, light but strong garment leather.
Proven quality
We combine our passion and knowledge of farming and leather-making, gained over many years, with the innovative design and leather-craft skills of our customers. This enable our customers to manufacture bespoke, durable, and timeless crocodile leather products. Ultimate customer satisfaction can only be achieved by combining collective knowledge, science, art, craftsmanship, passion, innovation and precision during the execution of both the farming, the leather tanning and manufacturing processes.
We pride ourselves on being innovative and we strive to remain informed on the latest international research in leather making. Our premium leather is exported internationally and meets the manufacturing testing standards set by international luxury brands. We embrace sustainable business practices and the reduction and control of the environmental impact of our operations. Le Croc only use chemicals that are certified
REACH
compliant and manufactured by internationally renowned chemical companies.
Our unique and integrated tanning and farming approach ensures us a
cutting-edge advantage
to meet our customers' crocodile leather requirements.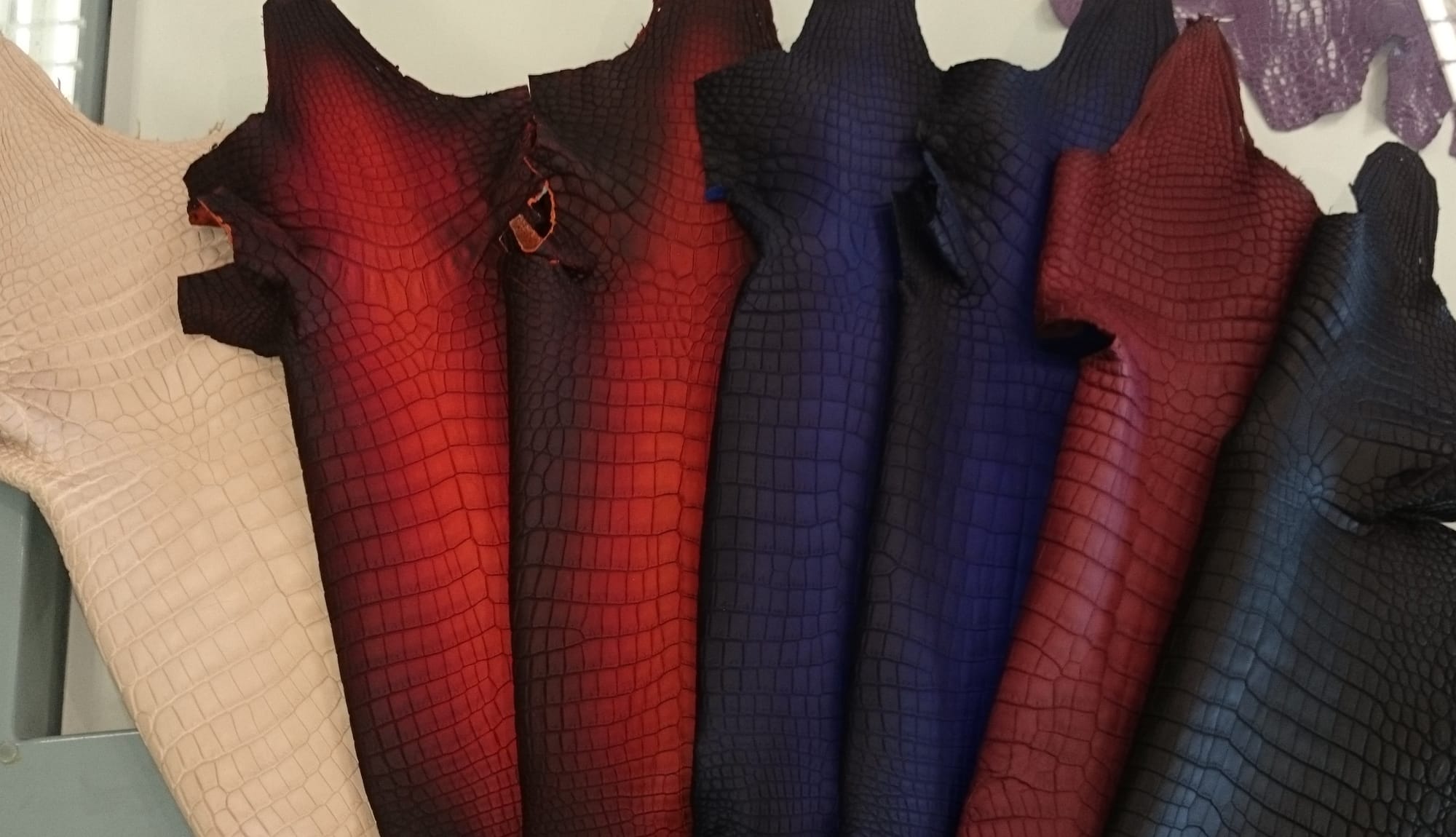 Traceability
Our crocodile leather is 100% traceable within our own farming operations, which are compliant with international good farming practices. Individual tagging of each crocodile on our farm enable our farming information system to record detailed information of the full life cycle of each and every crocodile on the farm. Our bar coded tags, attached to each hide throughout the tanning process, allows for continued data recording and traceability of the hide during the tanning process itself. The non-reusable Cites tags attached to the skins exported, is linked to the information captured against each skin, and allows our customers to identify and trace our leather back to our tannery, farm and ultimately each individual crocodile.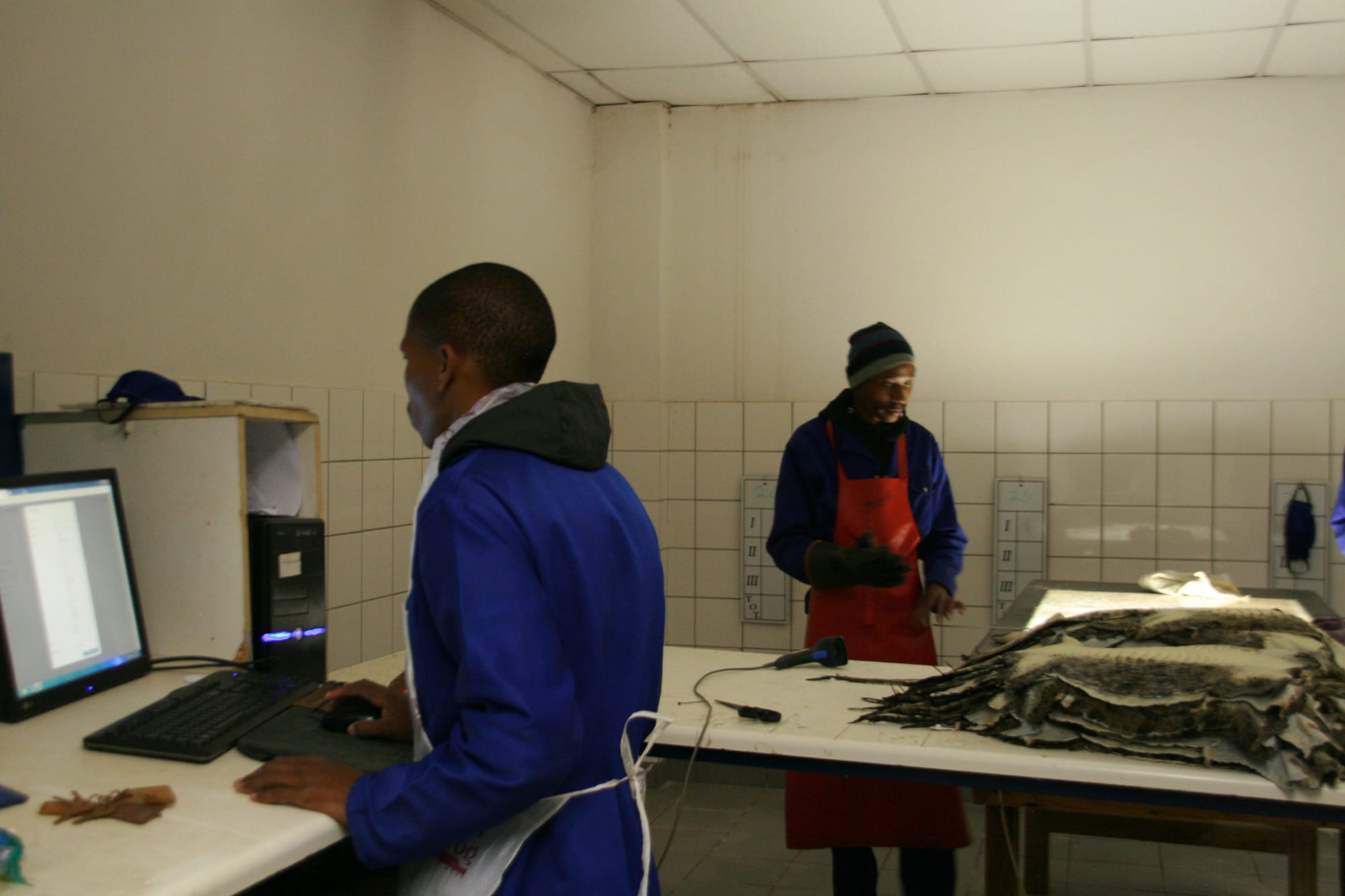 Cites tagging and identification
All our leather and meat exported internationally are regulated under the framework of the
CITES Convention
. Our crocodile leather is identified with a non-re-usable Cites tag containing a unique number followed by the prefix
"LE CROC ZA NIL"
reflecting our farm, country of origin and species. The Cites tag number is linked to Le Croc's internal identification number, making it possible to access the full history of the processing of the leather in our tannery and the life cycle information of the crocodile.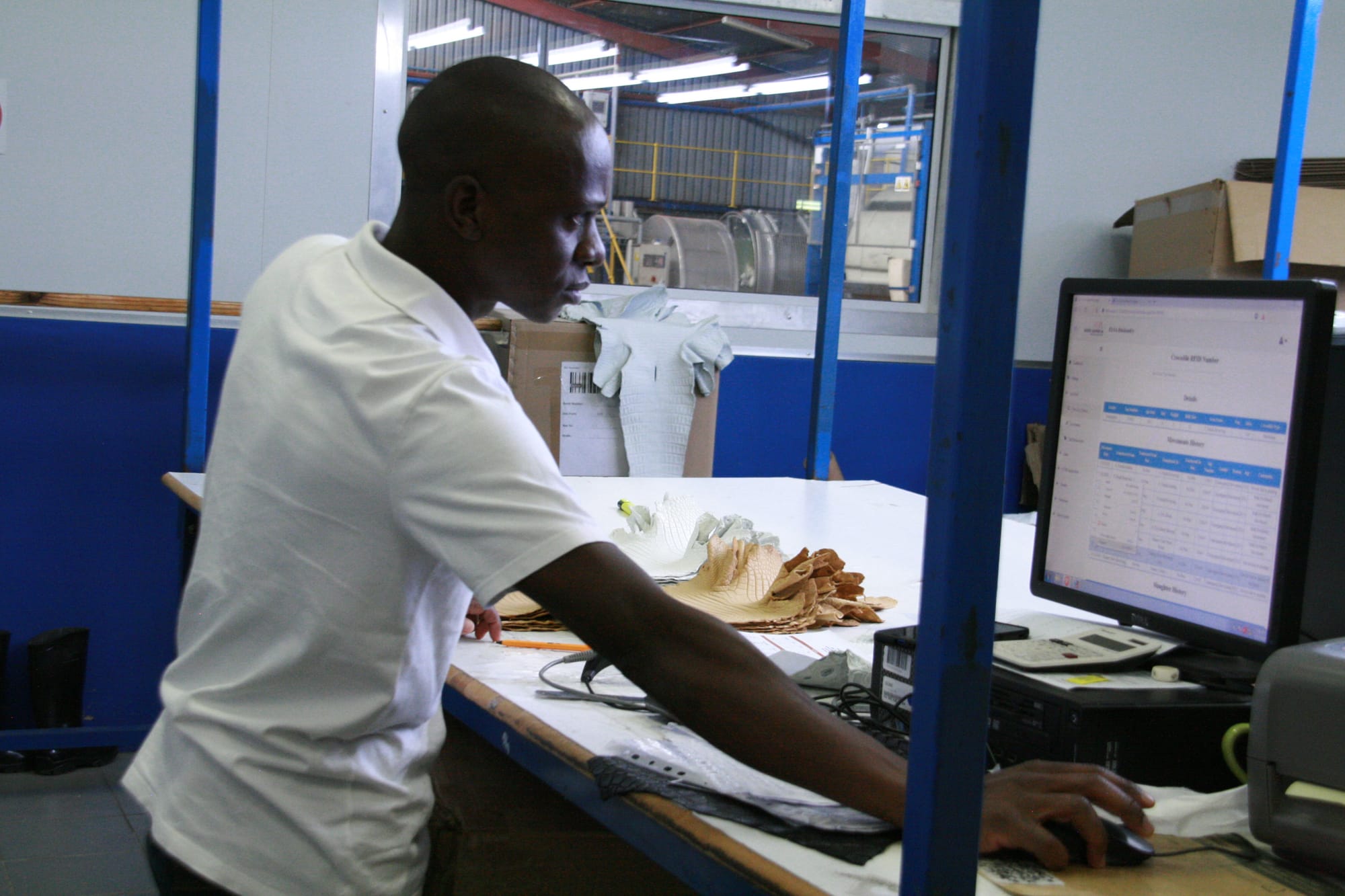 Cites Permits and monitoring
All Le Croc leather exported have a
Cites export and Import permit
.
All consignments of leather exported is individually authorized by
Cites.
Both import and export Cites permits are verified by Cites appointed agents at point of export and import, thereby ensuring that all leather consignments are legal, sustainable and traceable under Cites.