FINISHED LEATHER
Le Croc's crust skins are carefully selected according to the type of finished leather required for every customer. The re-tanning process applied to crust leather is adapted to achieve the desired leather properties and "look and feel" required for the different type of finished leather. The finishing process applied to the leather is also modified to meet the customers' specific preferences based on customer bespoke leather choices.
FINISHED LEATHER CATEGORIES:
Safari finish
Safari leather is a natural looking, soft leather. The suppleness and feel of safari finish leather can vary from firm, soft, silky and ultra-soft, suitable for use as garment leathers. The surface coat is designed to be flexible and durable. Safari leather is normally prepared in a matt or semi-matt reflection. Safari leather can also be altered to provide a special touch or feel, such as a sticky (gomma), smooth (silky) or waxy feel, depending on the customer preference.
Safari leather are a durable, waterproof finished leather with good scuff resistance, rub fastness and it can be utilized for most leather good applications and accessories, including garment and upholstery applications. Given the versatility in the final "look and feel" of safari leather, including the wide selection of colors of finishing, this natural finished leather caters for a wide variety of styles and designs including ready to wear and formal wear. Safari leather appeal to a broad spectrum of end consumers irrespective of age and gender.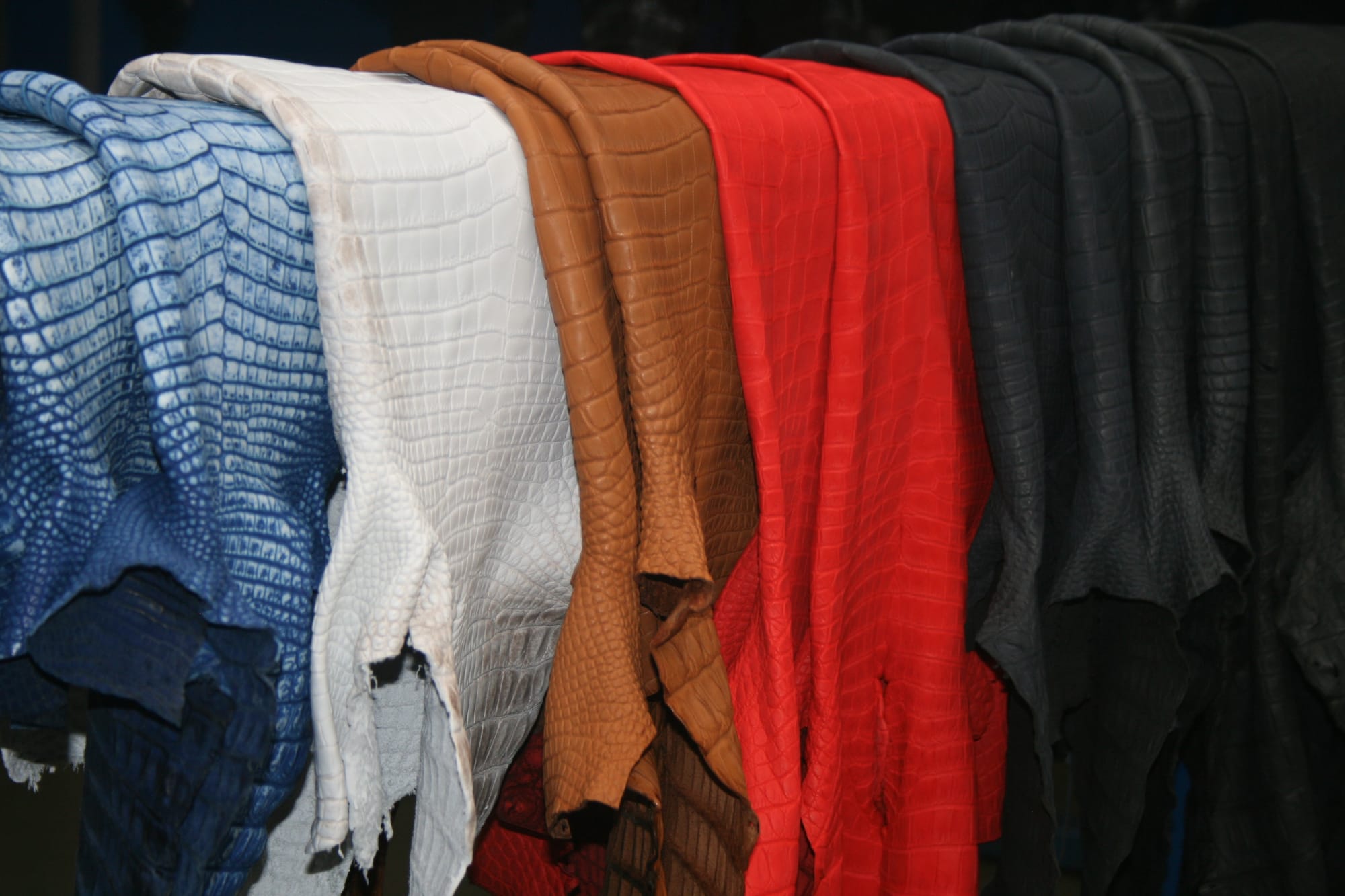 Napa and Garment leather
Le Croc has mastered the art of producing durable, delicately soft, lightweight and strong crocodile leather with a silky feel. Napa and garment leather is suitable for manufacture of treasured garments. The suppleness of this leather also makes it suitable for leather products that requires special softness and pliability. In order to achieve the desired pliability, softhes and lightweight characteristics suitable for luxurious garments, the leather is reduced to less than 1 mm, without compromising on strength and durability.
Supple Napa and garment leather is normally finished in a
safari leather finish
to emphasize the natural leather features in conjunction with a matt reflection and silky touch. This adored leather can be prepared in either pigmented or aniline finish.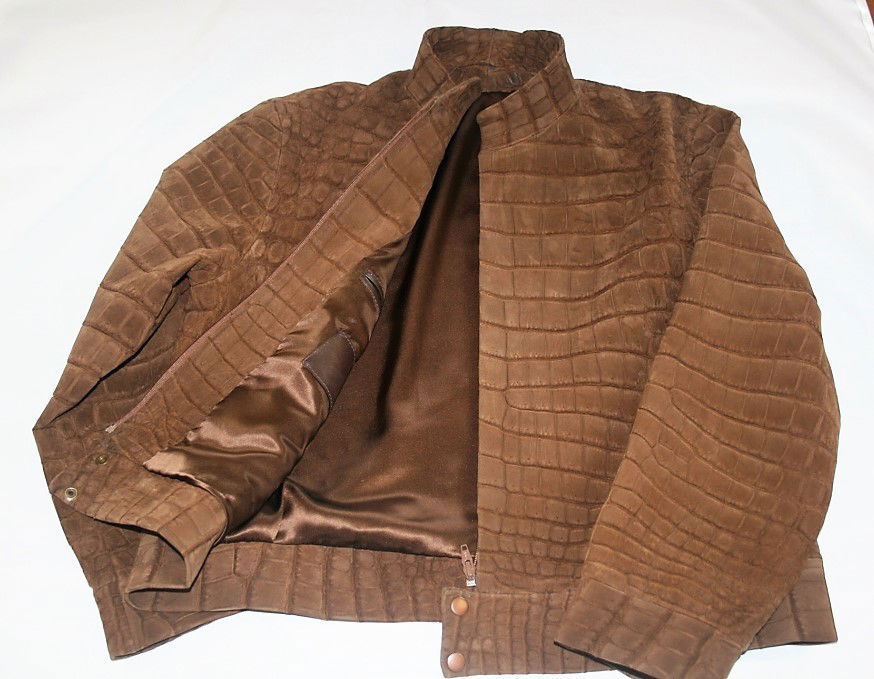 Millennium leather
Millennium leather is produced for the manufacture of exceptionally durable, waterproof and scuff resistant leather goods, with a medium shine or a low gloss finish. It is famously used for the manufacture of shoes, bags, belts or small leather goods. The final leather finish is achieved by applying a special polyurethane topcoat, suited to heat and pressure treatment. This specialized coat is applied by carefully passing the leather through pre-heated rollers at set temperatures and pressure, resulting the fusion of the topcoat onto the leather. This finish can be done in either a pigmented or aniline finish.
The process causes the extenuation and intensifying of the underlying color resulting in improving the brilliance vibrancy of the color often resulting in a two-tone color effect. The heated rollers provides a smooth reflection and silky touch. Millennium leather is a very sought after, versatile and popular finish for leather accessories.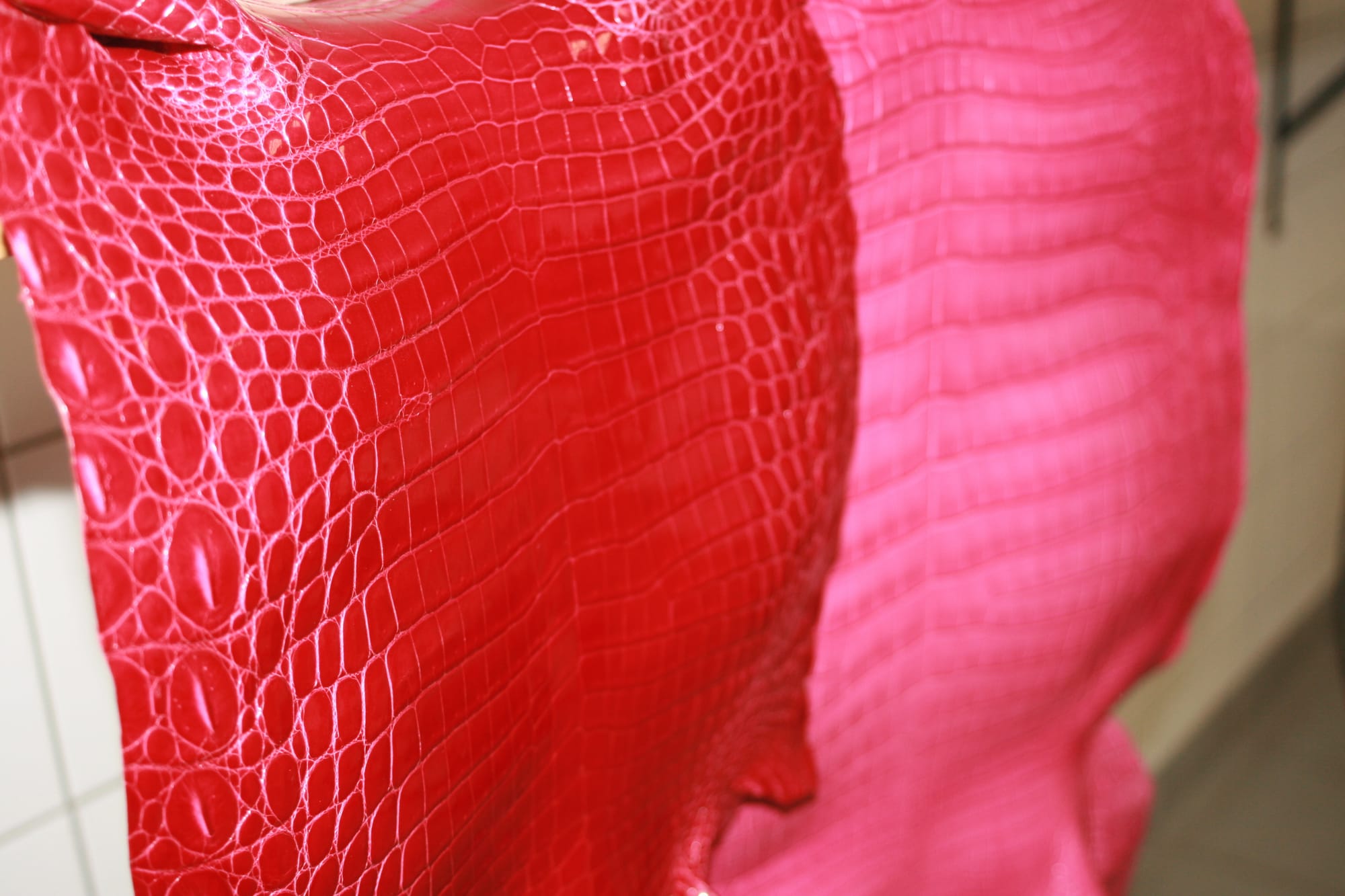 Glaze finished
Glazed finished leather is one of the most classic leather finishes used on crocodile leather. This specialized finishing process is suited for intense, bright and brilliant colors with a distinctive, mirror-like, gloss reflection. The finish is particularly attractive on crocodile leather. During the glaze process, the leather is exposed to heat caused by friction of the agate stone on the leather, resulting in a bombé effect. The glossy and pronounced symmetry of individual scales, creates a unique, very distinctive classic look and feel.
Glaze leather is produced under high pressure and temperature, resulting in a firmer, less supple and pliable leather. Mastering the glazing technique require experience and specialist skills. The glazing process intensify colors and can provide two-tone affects and mirror like reflections, making it desirable for both haute couture and avant-garde inspired designs. Waterproofing chemicals cannot be applied to the glazing process and therefore glazed finished leather is only suited for the manufacture of leather products that will not be exposed to water or dampness as it will affect the gloss and durability of the leather.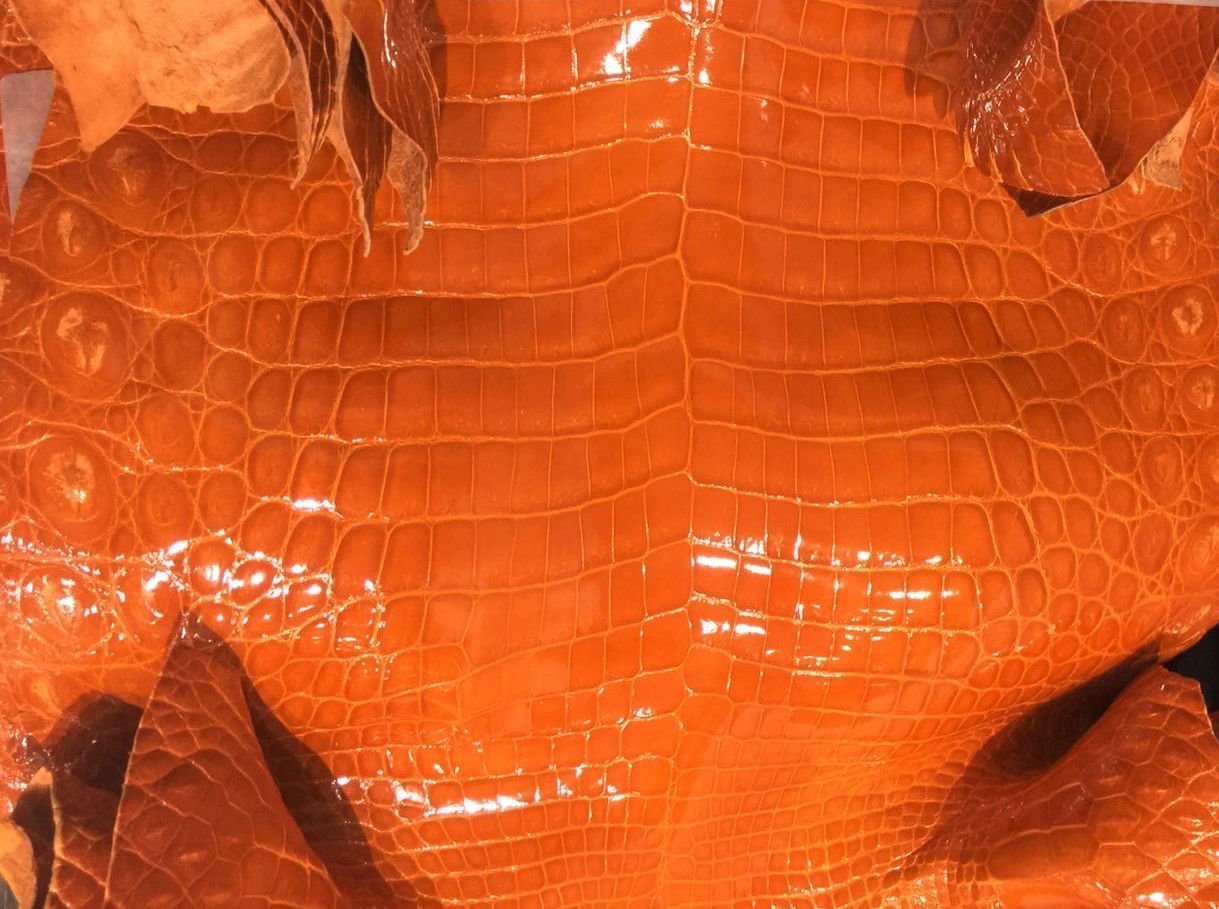 Soft glaze
Soft glaze finishes is an intermediate finish between millennium and glaze. It combines the excellent durability and waterproof qualities of millennium leather, with the brilliance of a glaze finish. Soft glaze leather retain the soft, flexible qualities of a millennium leather but with added shine achieved by a glazing process.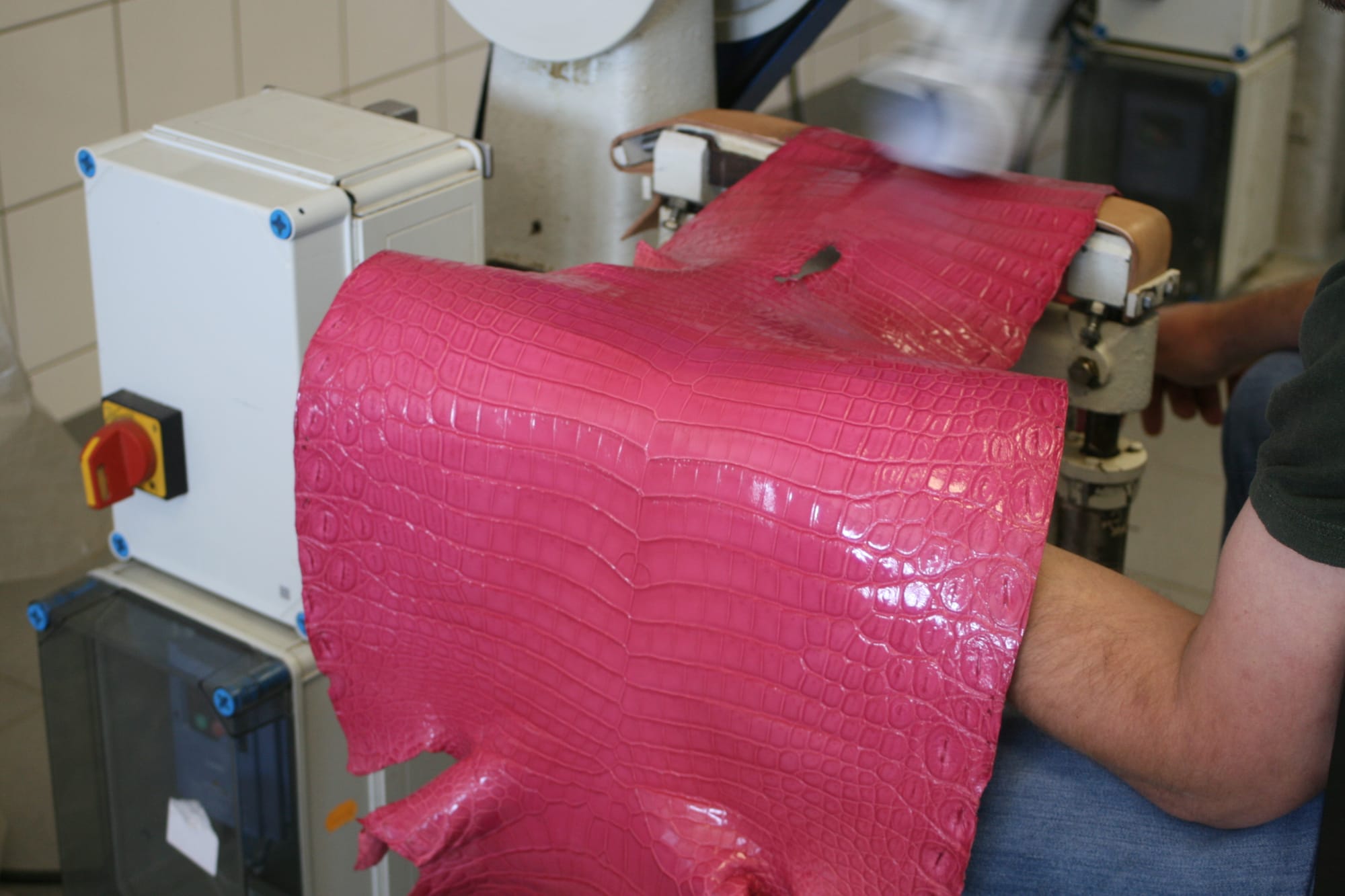 Other Specialized finishes
Vegetable tanning, pull-up leather and natural pigmented leather can be done at request for customers. Special color effects such as metallic, patinated and hand-painted finishes, including ombre and other effects achieved through brush off, wash-off, tipping and padding techniques can also be prepared on customer special orders.